Week 1: Inside the Arrows, Sachem North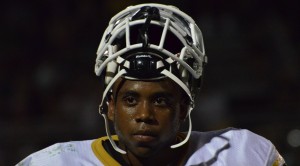 Like I've done for the last three seasons, I'll continue with my weekly analysis of statistics and history for the football programs at Sachem East and North.
GAME RECAP: Sachem North 41, Lindenhurst 21
Friday's victory for Sachem marked the 275th in program history. Overall, Sachem has a record of 275-165-18 since its original season in 1961.
Sachem has won 31 of its last 35 games dating back to 2009.
Sachem is now 28-24 all-time in Week 1 games, including a 12-1 stretch since 2000.
The 41 points Sachem scored ties a school record for the most in a season opener with the 2001 team that beat Smithtown, 41-20. Sachem's JV squad beat Central Islip, 67-0, in the 1960 season opener.
Sachem is now 29-12 all-time against Lindenhurst and have outscored the Bulldogs, 866-580.
In Friday's win, Trent Crossan's 31-yard pass to Kevin Bragaglia was just 1-yard shy of tying last season's longest pass, which was a 32 yarder from Mike O'Donnell to Dalton Crossan.
Fourth and Long
*1,000-yard plateau: It's going to take a bulk of the 2012 season, but there's potential for Sachem to have four 1,000-yard career rushers on the roster and starting at the same time for the first time in program history.
Here are the career numbers right now (after week 1 of 2012):
Trent Crossan: 89 carries, 636 yards, 4 TD
Malik Pierre: 42 carries, 538 yards, 8 TD
Anthony Ross: 51 carries, 538 yards, 3 TD
Tyler Andreassi: 83 carries, 458 yards, 5 TD
They will all split time carrying the ball and by the looks of this high-potent offense, they'll all reach the 1,000-yard mark this season. In 2010, Dalton Crossan (3,170), Michael Andreassi (1,966) and Jesse Scanna (1,531) split time and led Sachem to a Division I regular season title and appearance in the Suffolk County championship. Trent Crossan was also on that team, but only rushed for small yardage. In the 50 years of Sachem football prior to 2012, there have only been 17 players to reach the 1,000-yard career rushing list. Eight of the 17 have played from 2000 to present day.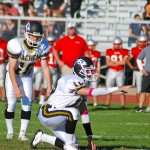 *Kicking for history:
As stated in Friday's game story, already Sachem's single season and career PAT leader, junior kicker Bryan Morris is on the verge of becoming Long Island's top PAT man of all-time. The junior now has 93 PATs, 12 behind the Long Island record set by William Floyd's Jonathan Korn. He currently ranks fifth all-time. His 93 career kicking points rank him sixth all-time in Suffolk history and 10
th
in Long Island history. The record is 139 set by East Islip's Sean Mollar, a number Morris will break before he graduates.