Sachem Football Week 3: Inside the Arrows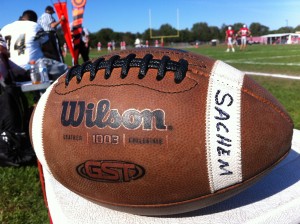 A look at the historical stats and notes from this week's football action at Sachem East and Sachem North.
RECAP: Sachem North 51, Pat-Med 14
PHOTOS: Week 3 Sachem North football gallery
HISTORY: Bryan Morris kicks his way to milestone night
Notes on the victory
Sachem North has won 33 of its last 37 games dating back to 2009.
Through three games, Sachem has 1,323 yards of total offense and has scored 155 points, both tops on Long Island.
Friday's win marked only the 10th time in Sachem history that the Flaming Arrows scored 50-plus points in a game. Seven of the 10 games have occurred since 2009.
Sachem has scored 41-plus points in three straight games to open the 2012 season. 1) It's the first time Sachem has scored 40-plus points in three straight games to open a season and 2) it's the first time Sachem has ever scored 40-plus points in three straight games in any season.
Friday's game was the 460th game played in Sachem's 51-year history (277-165-18).
Sachem has now beat Pat-Med six straight games and improved its overall record against the Raiders to 33-18-2. Sachem has also outscored Pat-Med, 950-705.
The 51 points are the most against Pat-Med in the rivalry, breaking the 49 points scored in 1984.
Sachem is now 32-18-3 all-time in Week 3 games.
The Trent Crossan File
Trent Crossan has quickly crept up in the Sachem record books. Aside from his historic eight-touchdown night last week against Bay Shore, Crossan is now the 18th player to rush for 1,000 or more yards in Sachem history. He currently ranks No. 17 with 1,086 yards thanks to his 213-yard performance against Pat-Med in Week 3.
Crossan has rushed for 200-plus yards in consecutive weeks: 237 vs. Bay Shore and 213 vs. Pat-Med.
Crossan's 68-yard rush to open the third quarter is the longest play from scrimmage for the Flaming Arrows this season.
The Bryan Morris File
Bryan Morris now has 102 PATs, three behind the Long Island record set by William Floyd's Jonathan Korn (105). His 105 career kicking points rank him third all-time in Suffolk history and 9th in Long Island history. The record is 139 set by East Islip's Sean Mollar.
The Kevin Bragaglia File
He's only a sophomore, but has risen to the occasion and is scoring points, playing special teams and offering massive support for Sachem in the secondary. Kevin Bragaglia recorded his third career interception on Friday. The single-season record is 9 by Bryan Gil in 2004.
Bragaglia recorded his first varsity touchdown and first 100-yard rushing game against Pat-Med.