Six from Sachem football make All-State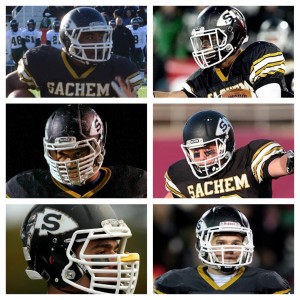 Six student-athletes from Sachem North football were selected as All-State players this season, according to a formal list released by the New York State Sportswriters Association earlier this month.
Malik Pierre grabbed first team honors, while Kevin Bragaglia, Anthony DiMatteo, Bryan Morris and Justin Rivera were named third team selections, and Trent Crossan made the fifth team.
Along with St. Anthony's, Sachem's six selections are the most from any Class AA school on Long Island.
Sachem has had 17 players selected All-State since 2000 when the NYSWWA has kept track of the honor.
Pierre is the first Sachem North player since Jesse Scanna (2010) to earn first team honors. Bragaglia and DiMatteo are the first underclassmen to earn All-State honors at Sachem since Dalton Crossan (2010).
Morris is the first special teams player at Sachem to be recognized as All-State.
With his fifth team selection, Trent Crossan joins his brother Dalton, as well as Michael and Tyler Andreassi as the only brother combos to earn All-State honors in Sachem history.
Sachem North's 2013 All-State selections
RB, Malik Pierre, First Team
DB, Kevin Bragaglia, Third Team
OL, Anthony DiMatteo, Third Team
PK, Bryan Morris, Third Team
LB, Justin Rivera, Third Team
AP, Trent Crossan, Fifth Team