Five from Sachem make All-Metro Honorable Mention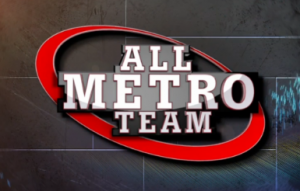 Five football players from Sachem North were selected to this year's All-Metro team, announced Tuesday night on MSG Varsity.
Seniors Chris Biryla, Malik Pierre, Justin Rivera, Bryan Morris, and junior Anthony DiMatteo were all honored along with the very best football players in the tri-state.
The selections come at the heels of one of Sachem's most successful seasons in school history as the Flaming Arrows captured their first Class I Long Island championship.
These are Sachem North's first All-Metro selections since Dalton Crossan was a First Team nod in 2011.
The only Long Island football players on the All-Metro First Team this year were Jordan Gowins (St. Anthony's), Jake Carlock (Babylon) and James O'Hagan (Seaford).
Next up, Sachem awaits its All-State selections for this year. The New York State Sportswriters Association selects them within the next few weeks. Later in the school year football players from Long Island will also find out if they are selected for the annual United Healthcare Challenge – the Boomer Game – which pins Long Island against New York City on the gridiron.
-Words by Chris R. Vaccaro