Sachem wins Class I Long Island Championship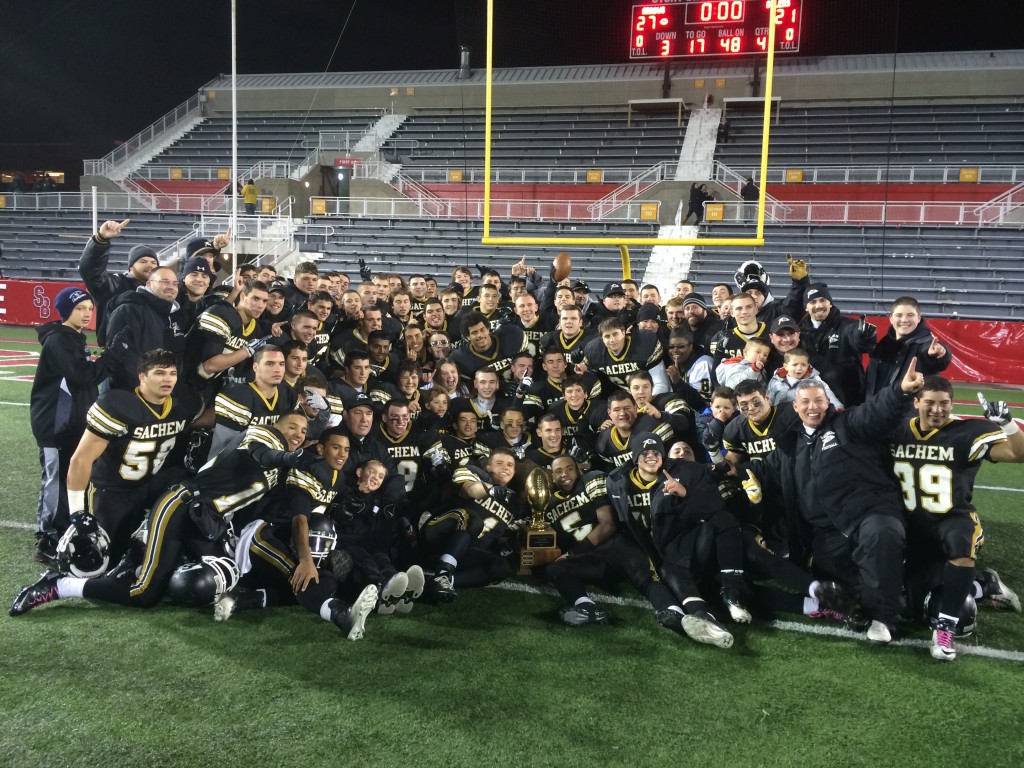 Imagine this: Sachem trails 21-7 in the second quarter of its Long Island championship bout, strings together a remarkable second half, keeps Farmingdale scoreless in the final two quarters, blocks a punt, records a safety, scores a touchdown in the final two minutes, then holds the Dalers one more time to win the program's first crown.
It happened and it was glorious. Sachem beat Farmingdale, 27-21, Saturday at Stony Brook's LaValle Stadium in the Class I Long Island championship, making history as the first team in program history to win the big one.
The screenplay began to take form when Malik Pierre blocked a punt with 5:27 remaining in the game, deep in Farmingdale territory, causing a safety to cut the deficit to 21-19.
"We called hundreds, a punt block," Pierre said. "Everybody comes in for the block and we got it. That's coach Falco's baby."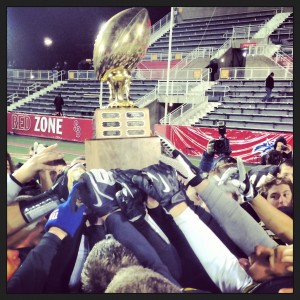 Kevin Bragaglia returned the ensuing free kick 25 yards to Farmingdale's 46 yard line. Pierre carried first for 12 yards, and Trent Crossan finished the series with three carries for 29 yards, including one 15-yard splash up the middle on second-and-1 that was the go-ahead game winning score.
Sachem opted for the two-point conversion and Pierre made good on the attempt.
"To see Trent bust through there and get the go-ahead touchdown, especially with all the things he's done for our program and all the things he's been through, for him to get to this point healthy is special," said Sachem coach Dave Falco.
Sachem led by six points but still had to kill 2:50 off the clock, which was conceivably plenty of time for Dalers weapon Curtis Jenkins to do work.
Nothing came of it though. Sachem stifled Farmingdale with its dominant defense and forced quarterback Vinny Quinn into three incomplete passes and the Flaming Arrows took over with 1:17 to finish out one of the most historic moments in Sachem history.
"LIC, LIC, LIC," bellowed the Sachem faithful before thousands in attendance.
Pierre opened Sachem's scoring with a 1-yard touchdown run at 2:57 of the first quarter, only after lineman Nick Accurso snagged an interception off Quinn with only one hand since the other is bandaged with a cast.
Crossan converted on a 3-yard touchdown run that was set up by a 49-yard pitch-pass from Pierre to Bragaglia.
Bryan Morris converted on a 37-yard field goal, tying his career-high in distance, as time expired in the second quarter and Sachem trailed 21-17 after the first half.
"At halftime we knew we were right in this game," said Crossan. "They had some big plays that could be limited and we were only trailing by four points. We knew at halftime this would be a four-quarter war."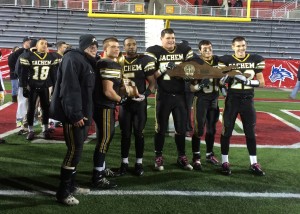 "We knew we had to dig in," said Sachem's Justin Rivera. "We knew it was a beatable team and that we could hang with this team. We made some adjustments, shifted some people around. We played fast and physical, which has been our motto."
So Sachem played fast and physical, down two starters who suffered in-game injuries in Dylan Rodriguez and Anthony Ross, and didn't flinch once. By game's end Crossan and Pierre were slotted as linebackers since Sachem was first to adjust its personnel from the injuries. It all worked out in the end.
"Some great help from some young kids, great coaches, some luck along the way, some calls here and there," Falco said. "It's a great win for the Sachem program."
News & Notes
Pierre finished with 73 yards on the ground and 49 passing yards. Crossan had 15 carries for 63 yards and 2 touchdowns. Bragaglia had 5 receptions for 78 yards. Anthony Service was 7-for-11 passing with 45 yards.
Farmingdale had just 75 offensive yards in the second half. Jenkins had 22 carries for 62 yards. The Dalers had 241 yards of total offense compared to Sachem's 281.
Michael O'Donnell recorded an interception in the game for Sachem. He finished his stellar varsity career Saturday and always seemed to find his way to the ball and make the big plays when it counted most. "He's like Einstein out there," Falco said. "A brilliant, brilliant player. Always knows where to be. You can't coach that."
It had been 18 years since Sachem played in its one and only appearance in a Long Island championship until this season.

Scoring Breakdown
F: Quinn 6 run, kick good
S: Pierre 1 run, Morris kick
F: Kennedy 94 kick return, kick good
F: Kennedy 8 run, kick good
S: Crossan 3 run, Morris good
S: Morris 37 kick
S: Crossan 15 run, Morris kick