Champions! Sachem downs Floyd for title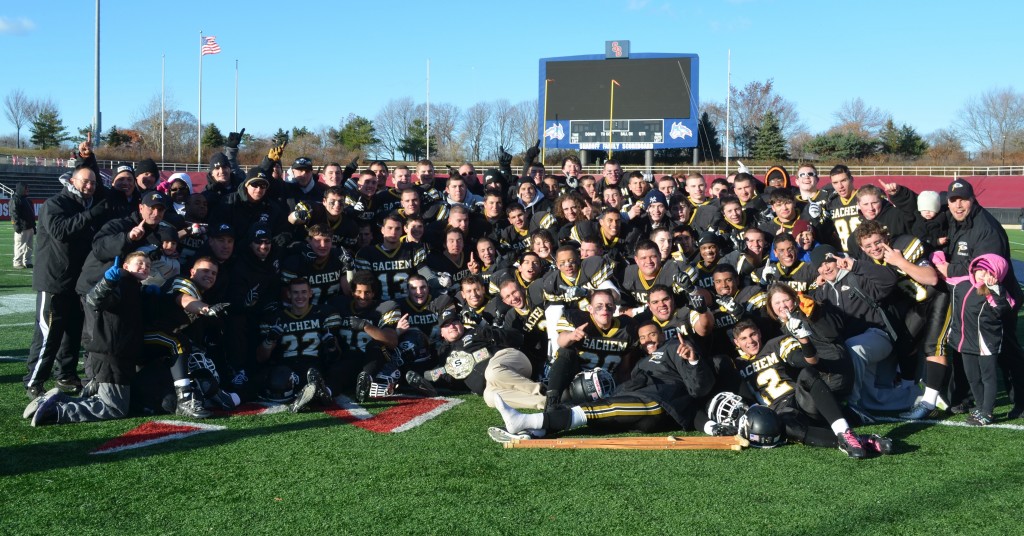 The wait is over. After 18 years, and after losses in its last six county final appearances, Sachem has finally captured another Division I Suffolk County championship, its seventh in program history.
The Flaming Arrows brought a stifling defense and crisp offense to the field at Kenneth P. LaValle Stadium to pound William Floyd in a 28-7 victory on Sunday afternoon.
Sachem (9-2) will play Nassau's Farmingdale (11-0) in the Class I Long Island championship next Saturday at Stony Brook.
After four playoff loses to Floyd the last four seasons, including three straight in the championship, plus a regular season loss to the Colonials this season, Sachem downed its nemesis with as much gusto as it could muster this time around.
"This is probably one of the best feelings," said Sachem senior Chris Biryla, who played the best game of his career and had three sacks in the first half. "We worked extremely hard to get here."
It wouldn't be a normal game for Sachem without some adversity thrown its way. Starting quarterback Anthony Service went down with an ankle injury and was out of the contest early on. Enter Mike Licata.
A junior who gets most of his playing time as a holder on special teams until the team is his next season, Licata was thrust into the spotlight and shined with the best of them.
VIDEO: Watch highlights played to the sound of "We Are the Champions"
His first career touchdown pass was a 45-yard hitch pass to Malik Pierre, who sailed down the sideline untouched at 1:41 of the second quarter to give Sachem a 7-0 lead at half.
"I didn't think about myself," said Licata. "I thought about getting the job done. They called my name and I was ready. I didn't think, I just played."
In the third quarter Trent Crossan looked like his old self, rushing 44 yards for a touchdown, putting Sachem up 14-0. Crossan has battled multiple injuries to his knee, ankle and hamstring since his sophomore year.
"I had a rough three years, but it felt awesome to get out in the open field, make people miss and get back in that end zone," said Crossan, who left the game in the third quarter after a hard hit.
"What Trent has gone through to get to this game, to be able to do that today in an offense we haven't used much is phenomenal," Falco said.
Sachem recovered a Floyd fumble on the next kickoff and went up 21-0 after Pierre hit Licata with a throw-back option pass that the program will be talking about for years to come. The 26-yard pass came at 3:14 of the third.
"We practiced it all week," said Licata, who didn't actually take the snaps for it in practice. "I didn't think we were going to do it. All I saw was the corner of the end zone and I stretched it across. It was amazing. My first varsity touchdown. I've always dreamt about my first varsity touchdown and I did not think it would be on a pitch throw-back play either."
Pierre, who also had two interceptions on defense, scored his second touchdown when he rushed 39 yards with 4:45 left in the game to secure Sachem's lead at 28-7.
Floyd's Chris Faison scored a 50-yard touchdown in the third quarter for his team's only productive play of the game.
RELATED: Complete breakdown of Sachem championship coverage
Something should be said for Sachem's defensive prowess in this contest; five sacks, two interceptions, constant pressure all around. For the stage and setting, this is one of the best defensive performances you'll ever see in Sachem's illustrious 53-year history.
"Our defense has gotten better and better each week," Pierre said. "We're at our peak right now, but we're not done yet."
Added Biryla, "Our coaches have been training us all week for this. The quote for the rest of the season has been 'get your mind right.' We've been looking at film, studying defensive plays and we got it done."
As for the victory, it's the first for Dave Falco as a head coach in his 11thseason at the helm.
"I really have no words to describe this," he said. "When you beat a guy like Coach Longo and a program like that, it's like beating Alabama or Notre Dame. You have to give our kids credit for being resilient. It starts with believing you can do it and we did it."
Crossan was a part of two previous championship losses and has grown up with the maturing process of dealing with defeat. Now he's enjoying the nirvana of victory.
"I've been on a bunch of special teams here and we've had some great teams, but we knew this one was different," he said. "Everyone is so close and we're with each other everyday. It's a special group of kids and I knew we could get it done."
"It's the greatest feeling ever," said Pierre. "We've lost to them the last four years, since I was in ninth grade, and to finally beat them is pretty special. "
PHOTOS: See more images from Sachem's victory
Notes & Quotes
Pierre had 14 carries for 86 yards, 1 rushing touchdown, 1 passing touchdown and 2 interceptions. Crossan had 8 carries for 70 yards and 1 touchdown.
Sachem kick Bryan Morris broke the Long Island record for points scored by a kicker by kicking four extra points in the championship game. He now has 182 for his career.
Sachem out gained Floyd in total offensive yardage, 271-123. That's the lowest total yards Sachem has allowed all season.

Scoring Breakdown
S: Licata to Pierre 45 pass, Morris kick
S: Crossan 44 run, Morris kick
S: Pierre to Licata 26 pass, Morris kick
F: Faison 50 run, kick good
S: Pierre 39 run, Morris kick
-Words by Chris R. Vaccaro