Alums, previous experiences play factor in victory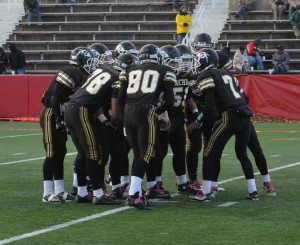 Sachem coach Dave Falco paid praise to all the normal entities that you'd expect in his post-game interviews following their 28-7 victory over William Floyd in the Suffolk County Division I championship.
It's easy to talk about the great play of Mike Licata, Trent Crossan, Malik Pierre and all the other key role players you're used to hearing about week over week.
But Falco also paid tribute to the countless players who were a part of championship loses in three of the last four seasons. Without the struggle of defeat, without the growing pains and growing process of recovering from those experiences, this victory may have never happened.
"I'm thinking about the guys who didn't get over the hump," he said. "We needed to go through those loses to get to this. A lot of those things we did today were lessons learned over the years."
Falco pointed out players like Davon Lawrence, who rushed Sachem to a spectacular season in 2009, Sachem's first appearance in a county championship since the school district split during the 2004-2005 school year.
He cited big names in recent history like Michael Andreassi, Jesse Scanna, Angelo Armine, Timmy Lang and Dalton Crossan, among others, who put together outstanding campaigns, reached the championship, only to lose to Floyd.
If you were at the games in 2010 and 2011 you probably remember Armine's herculean efforts with a 265-yard rushing performance in one title game, or Andreassi, Scanna and Crossan scoring touchdowns at will, but still coming up short in the big game. They helped Sachem more then they'll ever know.
"You have to have the kids, the coaches and the lessons," Falco said. "Those kids are a part of this."
-Words by Chris R. Vaccaro