Sachem downs Commack on homecoming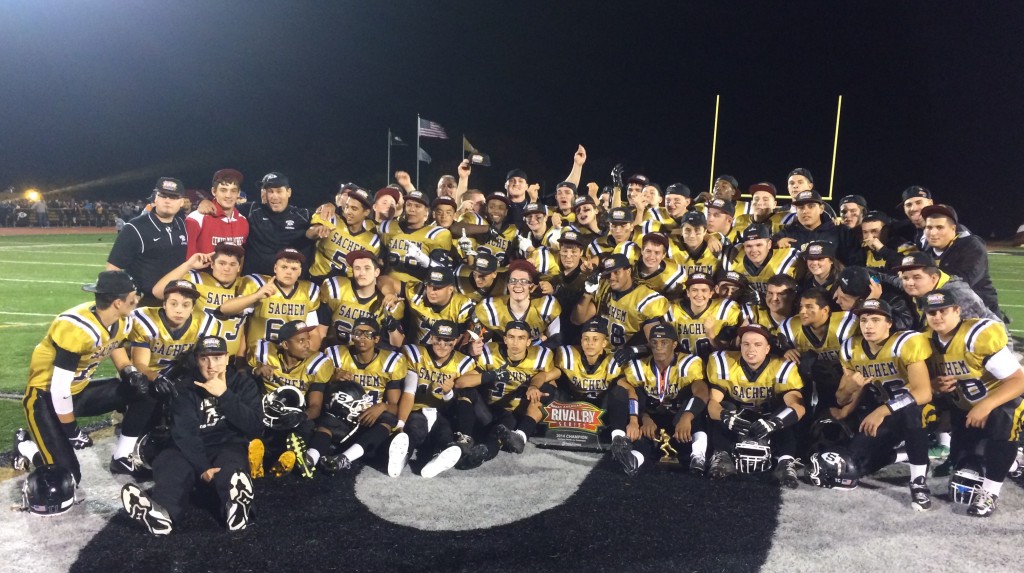 Sachem has been looking for that big defensive stand to hold a team off this year and it finally came against Commack.
Late in the game, Kevin Bragaglia grabbed a timely interception and the Flaming Arrows held the Cougars on fourth down in the red zone to seal a 21-14 victory at Fred Fusaro Alumni Stadium on Saturday night. It was homecoming for Sachem North.
"We bunkered down and made the right reads," said Bragaglia. "We stuck to our main defense, got into it and made every play."
Bragaglia scored three touchdowns. He had 26 carries for 116 yards and two rushing touchdowns, and also had a 25-yard reception for a touchdown. He was named MVP of the game, which was sponsored by the Great American Rivalry Series, for the second time in his career.
Sachem (3-3) trailed 7-0 early after a 52-yard touchdown run by Commack's Augie Contressa.
After forcing the Cougars to punt deep in their own end, Sachem took advantage of a short punt and gained possession at Commack's 18-yard line. Bragaglia finished that offensive drive with a 5-yard touchdown run.
Sachem tied the game at 14-14 on a 25-yard touchdown pass from Mike Licata to Bragaglia with 26 seconds remaining in the first half.
Aiming at breaking the tie, Sachem gave the ball to Bragaglia on five straight plays where he gained yardage totals of 6, 6, 10 and 9 before ending the drive with a 4-yard touchdown at 9:33 of the fourth.
"The poise by our young offensive line, blocking the right people at the end there, going down and us scoring was very good," said Sachem coach Dave Falco.
Charging into the red zone with fewer than five minutes left in the ball game, Commack committed two penalties and were stopped on two passing plays in its final series. Sachem also had a sack in the series and thwarted Commack on a reverse play on fourth down.
"I thought the defensive staff did a phenomenal job adjusting to what they were trying to do to us," said Falco. "The kids are running through the ball, they're tackling better. I liked the way our kids played."
News & Notes
Sachem defensive coordinator Dave Caputo was inducted to the Great American Rivalry Series Hall of Fame during halftime. Caputo, who graduated from Sachem in 1996, was one of the best defensive players to ever wear the storied Black & Gold. He was an All-Long Island defensive back, won the coveted Black Helmet Award as a senior and played collegiately at Cornell.
Sachem has won the Great American Rivalry Series four straight years.
Bragaglia recorded career interception No. 15 on Saturday. This adds to his program career record.
Call it revenge, if you will. Last year Commack gave Sachem one of its few losses at home in recent years. This year that wasn't the case.

Scoring Breakdown
C: Contressa 52 run, kick good
S: Bragaglia 5 run, Gagliardi kick
C: Messenger 22 run, kick good
S: Bragaglia from Licata 25 pass, Gagliardi kick
S: Bragaglia 4 run, Gagliardi kick