Sachem North edges Commack, eyes playoffs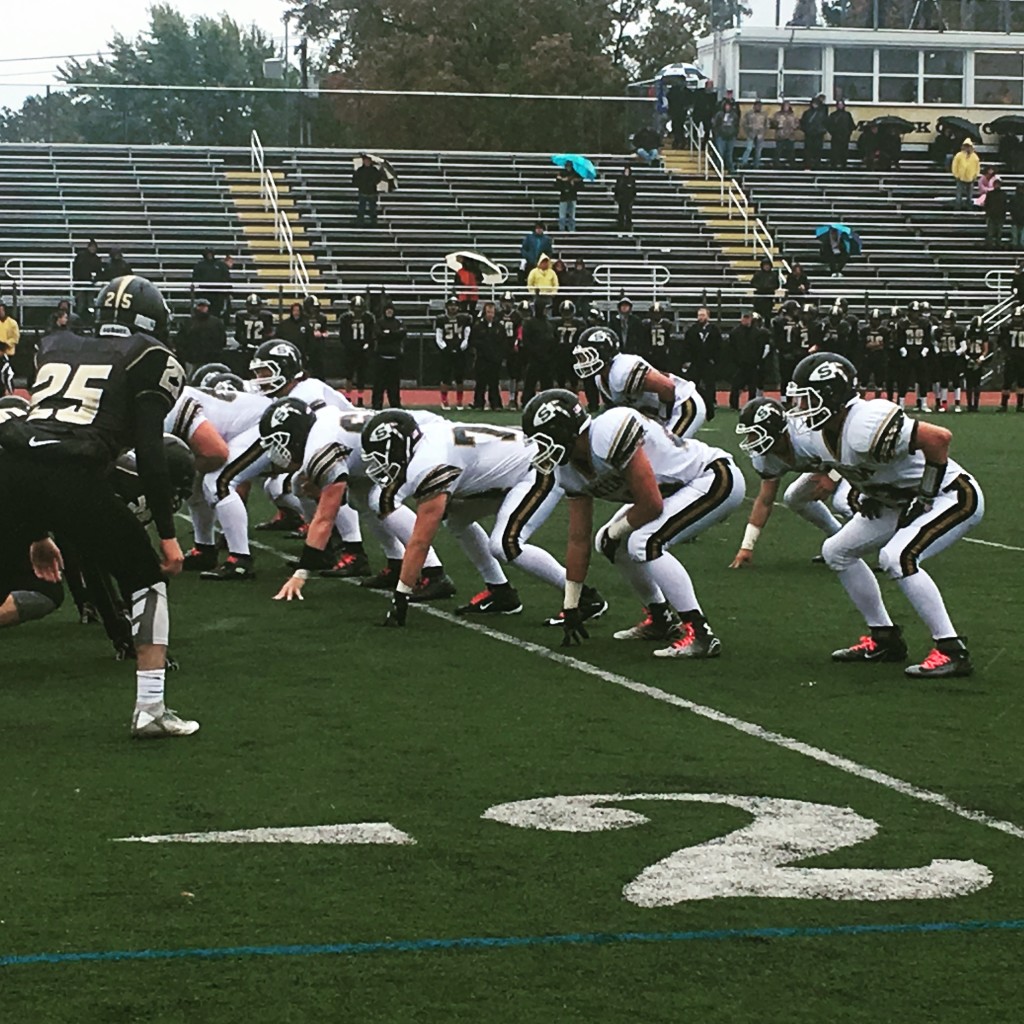 What started out as a 17-0 Sachem North lead through the first three quarters against Commack, eventually became a nail-biting contest in the final 12 minutes.
The Flaming Arrows (5-2) hung tough and captured a 17-14 victory on the road on a blistery fall day.
Commack, who entered the game boasting Suffolk County's top passing offense, was shutout and neutralized until scoring two touchdowns in the fourth quarter off the arm of quarterback Ryan Sheridan.
The Cougars (3-4) got the ball back with 1:31 left and were charging downfield until Sachem's Austin McCormick made the stop of the season, forcing Sheridan to fumble at the 11-yard line with 56 seconds left.
"I saw that he dropped back and tucked the ball and I just thought in my head, it's win or lose right now," said McCormick. "It's time to get the ball back."
Averaging 10.5 tackles per game and seemingly in the mix on every defensive play, McCormick has been a rock.
"He's got the heart of a lion and he plays very hard," said Sachem coach Dave Falco. "He has a high football IQ and is always in the right spot at the right time."
The other gem for Sachem in Week 7 was fullback John Mandola, who sparked Sachem's offense with timely and workmanlike carries throughout the second half. He generated all of his 14 carries and 74 yards of offense in the final two quarters. He had three carries for 17 yards on the final possession to run out the clock.
Mandola was injured early in the season and has played mainly on the defensive side of the ball. He's now the third back of a newly minted three-headed rushing monster along with Alezandro Aponte and Chris Maser.
"It's nice to have him back healthy," said Falco, who was screaming on the sideline that Mandola was a beast on multiple occasions. "He's tough and can really carry us."
Sachem took a 3-0 lead on a 30-yard field goal from John Gagliardi in the first quarter. Nick Licostie connected with Courtney Williams on an 18-yard touchdown pass in the second and Maser, who had 14 carries for 84 yards, scored on a 15-yard touchdown run in the fourth quarter.
"This was like a playoff game," said Mandola. "We knew if we were going to play big on the plays we were supposed to, we'd win this game. Everyone has been doubting us, but we know what we're capable of."
News & Notes
The Flaming Arrows have all but locked up a spot in the Suffolk County Division I playoffs. They last appeared in 2014 as an eight seed and lost to Longwood in the first round. The year, in 2013, Sachem won a Long Island championship.
Commack coach Jeff DiLorenzo is a Sachem alum. He won the Patrick Harkins Hustle Award in 1992.
Sachem will host William Floyd for Week 8 action on Saturday, October 29 at 1 p.m.
-Words by Chris R. Vaccaro