Williams shines in homecoming victory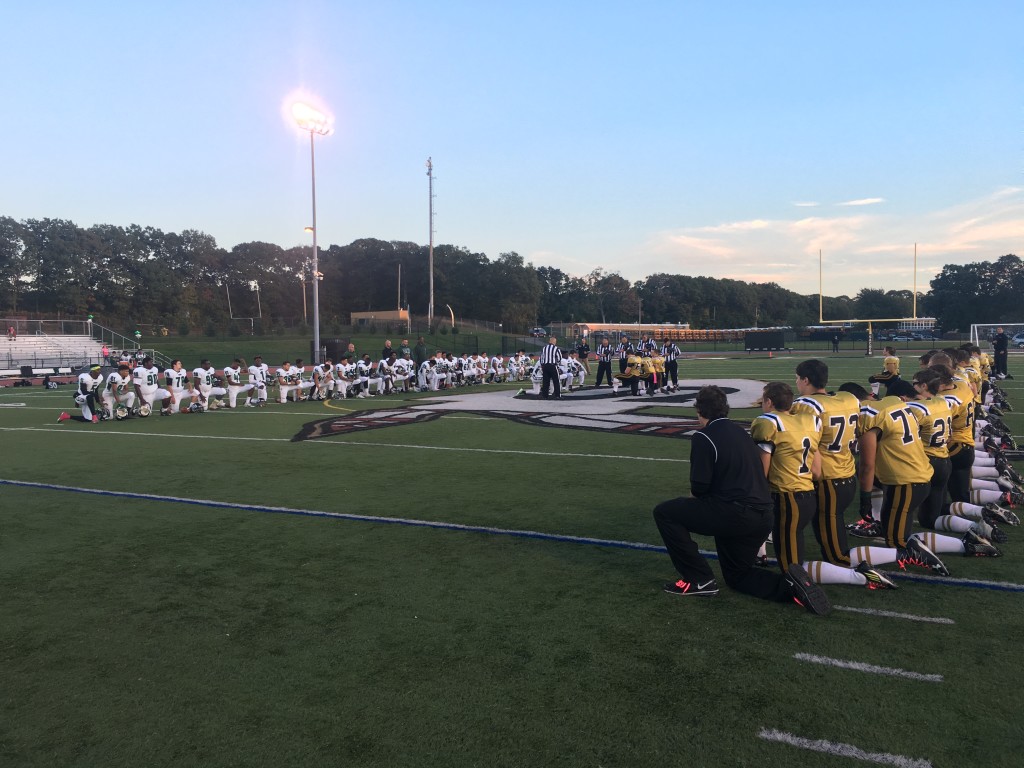 Sachem and Brentwood kneeling in unit before the game.
Courtney Williams is just heating up. The Sachem North senior had more than 200 all-purpose yards in a 27-20 victory over Brentwood on Friday during homecoming.
Williams, who had 91 rushing yards and 1 rushing touchdown and 5 receptions for 79 yards and 1 touchdown in the air, was named the Spider Westervelt MVP of the game, an honor bestowed to the top player in the game between Sachem and Brentwood each year.
His first touchdown was a 24-yard reception from quarterback Nick Licostie. The two have developed their chemistry since the summer and are as formidable as any one-two punch in Suffolk County Division I.
"We started working on it in Fishkill," said Williams. "We've kept at it, kept throwing the ball and building on what we have."
Williams also scored on a 91-yard rushing touchdown off a reverse in the first quarter. He said the coaches installed that play just two days prior.
"They wanted to try it," he said, "and it worked."
Alezandro Aponte kept up his workman pace with 22 carries for 86 yards and 2 touchdowns, both of which were 1-yard dives in the fourth quarter to give Sachem two separate leads, including the eventual game-winner.
Black & Gold Notes
Prior to the game Sachem and Brentwood knelt together as a symbol of unity to pay respects for the turmoil the Brentwood community has endured the last few months. Sachem players and coaches also wore green armbands.
Licostie was 7-for-12 passing for 103 yards and 1 touchdown. He now has a completion percentage of 54 percent this season (38-for-71).
Sachem has scored 1,013 points all-time against Brentwood, making this the second team the Flaming Arrows have eclipsed the 1,000-point mark against this season. Patchogue-Medford is the other at 1,020.
Jesse Scanna, an assistant coach at Brentwood, made his return to Lake Ronkonkoma. He's arguably the best defensive player in Sachem history and finished his career with a program record 320 total tackles.
Sachem heads to Commack for Week 6 action on the road at 1:30 p.m. on Saturday, October 22.
Scoring Breakdown
B: [no name], rushing touchdown
S: Licostie to Williams, 24 pass, Gagliardi kick
S: Williams 91 run, no kick
B: Nelson 39 run, Merlos kick
S: Aponte 1 run, Gagliardi kick
B: Funes 8 run, Merlos kick
S: Aponte 1 run, Gagliardi kick
-Words by Chris R. Vaccaro