Sachem downs Pat-Med, wins 300th game in program history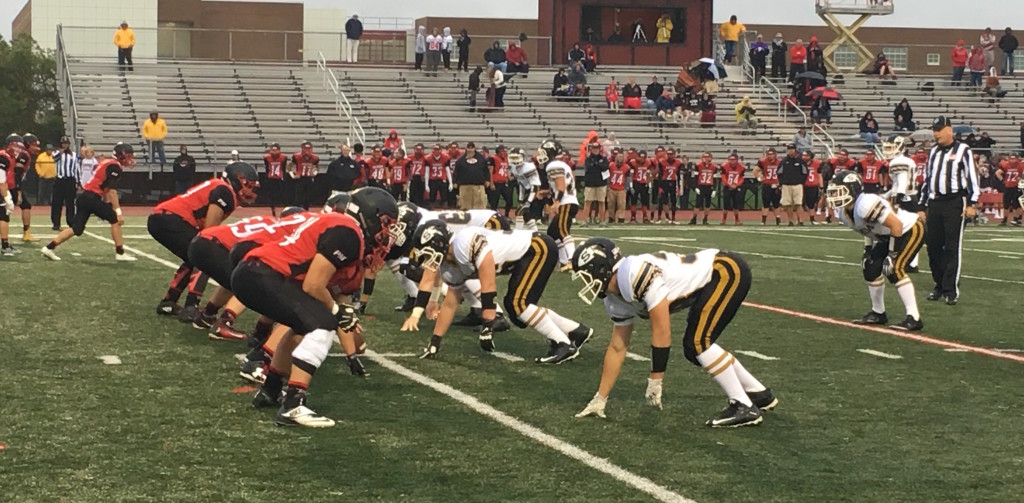 Players were hooting and hollering at the top of their lungs; hugging and slapping hi-fives with fury. It was just a regular reason road victory in Week 4 for Sachem North, but in so many ways it was much more.
Any win against local rival Patchogue-Medford is crucial, especially when Sachem is trying to prove itself as the No. 13 seed in Suffolk County's Division I entering the season. Again this week, key players continued to evolve their roles and build their identity in a 22-9 victory against the Raiders (2-2).
There was Nick Licostie, who was a perfect 6-for-6 passing for 87 yards and 1 touchdown. The touchdown was a precise 22-yard pass over the top to Courtney Williams with 8:00 left.
"Courtney is one of the best receivers on Long Island," said Licostie. "Our offensive line holds up and I can put the ball where it needs to be every time. A lot of teams don't think we can pass, but I believe we can."
There was Alezandro Aponte, who continued his monstrous rushing pace with 24 carries for 161 yards and 1 touchdown. His score was a 65-yard dash up the middle at 2:35 of the third quarter, which gave Sachem a 15-3 lead.
Aponte now has 611 rushing yards on 101 carries and 6 touchdowns in just four games. His carries and yards are among the best in Suffolk County.
"He's tough," said Sachem coach Dave Falco. "He knows what he's doing. He's bouncy, and has great vision and very smart from a football perspective."
Chris Maser lent support out of the backfield with 15 carries for 83 yards and a 53-yard touchdown.
Kicker Joe Gagliardi recorded a 29-yard field goal to open the game's scoring at 6:31 of the first.
Defensively, coaches Dave Caputo and Tom Pandolf have the team believing more each week. Sachem held the Raiders scoreless during the first half and to just three points through three quarters. Falco credits players like Chris Fasano, Austin McCormick, Tommy Vaughan, Bo Olshefsky and Williams, among others, with contributing on the defensive side of the ball.
"Fasano is an absolute beast all over the field," said Falco. "You need to know where he is on every play, which is allowing other guys to make plays."
Fasano, who was a freshman when Sachem won a Long Island championship in 2013, is now a senior captain headed for Division I Bryant University next year. He sees a different dynamic with this group compared to the juggernaut Sachem had four seasons ago, but he sees a contender.
"I think this group can motivate each other to come out and play like that championship team," he said. "Everybody has a different style and mentality, but this team has what it takes."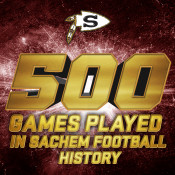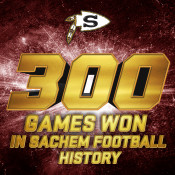 Sachem makes history
The Flaming Arrows were able to achieve two historic feats on Friday: capturing victory No. 300 in program history, while playing game No. 500 all-time. Sachem's all-time record is 300-182-18 since first fielding a varsity football team in 1961.
"You can't even put it in perspective," said Falco when told about the historical notes. "You have to credit all the guys who coached before us and everything they did for the program for all those years. It's just a great program to be a part of."
Added Licostie, "The history here is unlike any other school on the island. We've been winning big here for more than 50 years. That's what I love about it here. It's special."

Scoring breakdown
S: Gagliardi 29 field goaL
S: Maser 53 run, extra-point no good
P: Martin 28 field goal
S: Aponte 65 run, 2-pt no good
S: Licostie to Williams 22 pass, kick Gagliardi
P: Collins 97 run, kick no good
-Words by Chris R. Vaccaro