Sachem pulls out dramatic 40-35 victory over Walt Whitman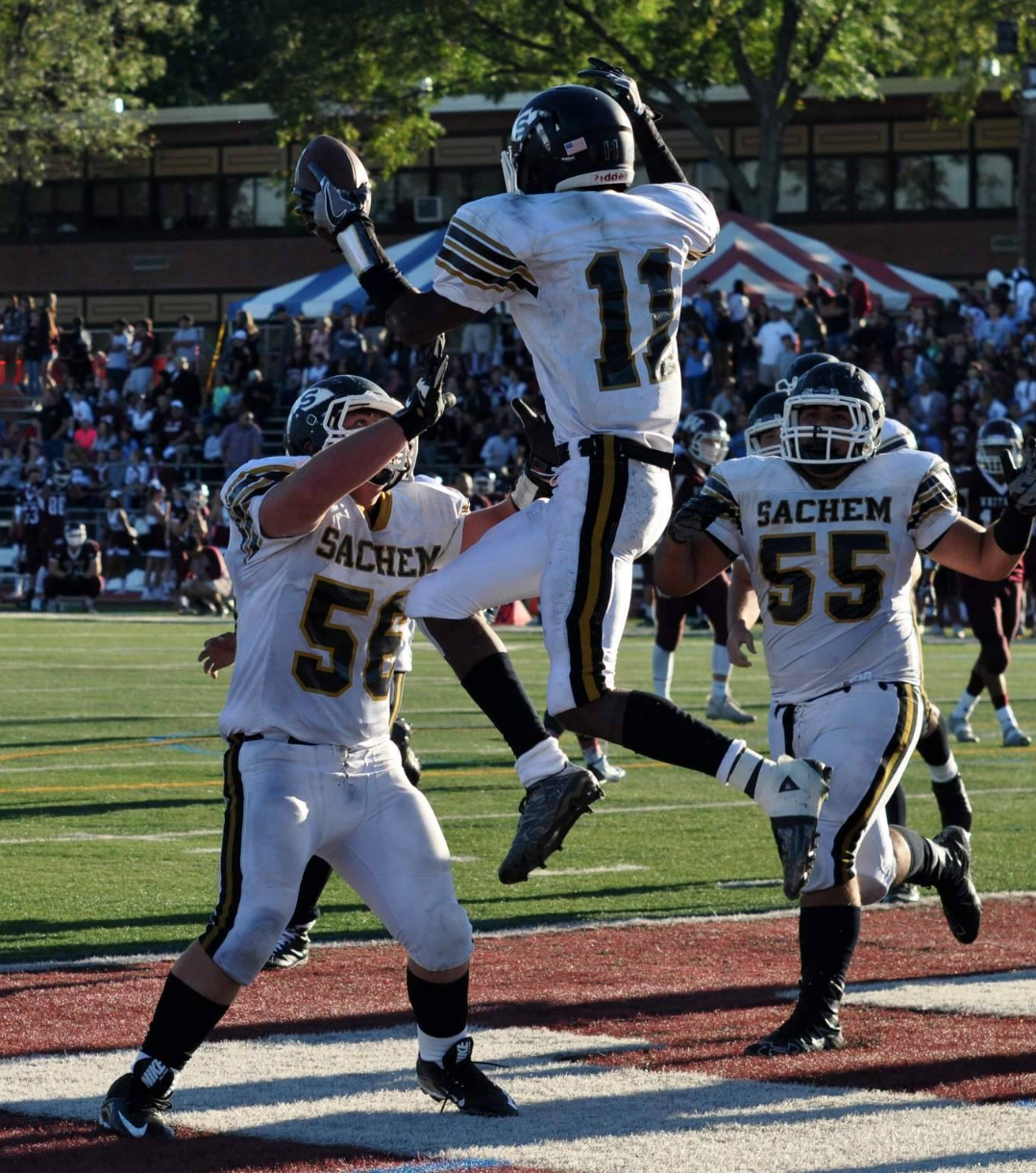 Courtney Williams rejoices after scoring go-ahead and eventual game-winning touchdown against Walt Whitman. / Credit Diana Phelan
Sachem North's 40-35 victory against Walt Whitman had just about everything you could ask for in a high school football game.
The Flaming Arrows, who were on the road and playing the role of homecoming opponent, jumped out to a 28-7 lead in the first half. Slowly, Whitman began working its way onto the scoreboard and eventually took a 35-34 lead with 1:07 remaining.
Sachem (2-1) was in its own territory on the final drive. Alezandro Aponte ran 14 yards on first down. Nick Licostie hit Courtney Williams with a 20-yard pass and put Sachem at the 25 yard line. On the next pass, Licostie targeted Williams again, this time for the go-ahead touchdown pass with 18 seconds left. In double-coverage, Williams beat both defenders and scored one of the more dramatic Sachem touchdowns in recent years.
"They put two men on me," said Williams, who finished with five receptions and 110 yards, "so I had to break the coverage. Offensively we converted on every opportunity when it counted."
The touchdown was extra-special for Williams as it was his first at Sachem since transferring into the district from Central Islip prior to the season. Additionally, it was memorable for Licostie since it is the first of his career as a varsity quarterback.
Aponte scored Sachem's first two touchdowns in the first five minutes of the game, including a 60-yard score on just the third play of the contest.
Javal Stanton, who had 2 carries for 86 yards, increased Sachem's lead to 21-7 in the second with a 63-yard touchdown run, while Aponte made it 28-7 with a 2-yard score shortly after.
Then Whitman started to flex its offensive muscles. The Wildcats strung together three straight touchdowns and missed the extra point on the third score preserving a one point, 28-27, lead for the Flaming Arrows with 5:41 left in the game.
Aponte answered again on the following drive. First he rushed 48 yards into the Wildcats' redzone and set up his own 7-yard touchdown run, his fourth score of the game. Sachem kicker Joe Gagliardi missed the extra point attempt and Sachem led 34-27 with 3:41 to go.
"Coach told us to keep our heads up and we did," said Williams. "We never let down and we never gave up."
Whitman continued to apply pressure with its air attack and marched to Sachem's 5-yard line before scoring on a short pass from Isaiah Wilkerson to Justin Striviron. The Wildcats opted for the two-point play and successfully converted on the run, taking a 35-34 lead and giving Sachem one more chance to change the outcome.
"All week we spoke about playing together as a family," said Aponte, who finished with 31 carries and 199 yards. "We really came together as one."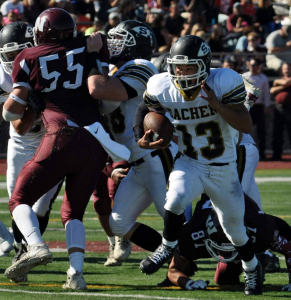 Alezandro Aponte rushed for a career-high 31 carries, 199 yards and 4 touchdowns. / Credit Diana Phelan
Aponte is Sachem's workhorse
Aponte has recorded 100-plus rushing yards in three straight games to open the 2016 season. He has 77 carries and 450 yards for an average of 5.8 yards per carry.
"Nothing gets done without the offensive line," he said. "The last touchdown I scored, the line pushed me for five yards into the endzone. That's not me, it's my team."
Only nine other players have ever rushed for 199 or more yards in a single game in Sachem history. The 199 rushing yards also rank No. 17 all-time in single-rushing performances for the program. His 31 carries rank as the eighth most in a single-game in Sachem history as well. Additionally, only six other Sachem players have scored four or more rushing touchdowns in a single game.
Williams getting comfortable at Sachem
Williams has spent the first three weeks getting acclimated with his new surroundings and teammates. He has 12 receptions for 163 yards and 1 touchdown so far.
"It was tough at first," he said. "I've had to come in, learn new routes and learn a different system. Sachem is a running team, so I had to learn how to block, but I'm loving it right now."
"We have some new kids in the program this year," added Falco. "To get them all on the same page is a challenge at times, but they all came through in the end."
Not lost in the transition is Licostie, who has played varsity football for four years, but is still new to the quarterback position at this level.
"I couldn't be happier for the two of them," said Falco "They're working extremely hard, they're working together and that's great to see."
Stanton, Williams' half-brother, who also transferred from Central Islip, has shown sparks of brilliance in parts of two games. He scored on a 38-yard touchdown run on his first career carry last week.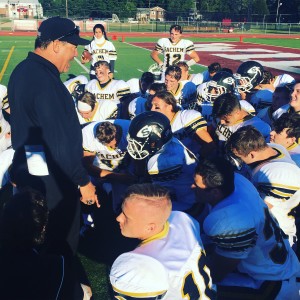 Sachem is now 2-1 to open the 2016 season.
History on the horizon
Sachem football has some incredible historical achievements on the horizon.
The program is sitting on 499 games played and 299 victories.
The program has also scored 9,847 points all-time and is approaching the major milestone marker of 10,000.
Throwback Saturday
Rewind to 1982. As a junior receiver for the Flaming Arrows, Falco caught a 40-yard touchdown pass to beat Whitman on their homecoming.
The touchdown happened on the opposite end of the field from the endzone Williams scored on Saturday. Mike Crossan, whose sons both played for Sachem in recent years, was the quarterback on Falco's touchdown reception.

Scoring Breakdown
S: Aponte 60 run, Gagliardi kick
S: Aponte 2 run, Gagliardi kick
W: Wilkerson to Brown 20 pass, Boyle kick
S: J. Williams 63 run, Gagliardi kick
S: Aponte 2 run, Gagliardi kick
W: Wilkerson to Striviron 2 pass, Boyle kick
W: Brown 1run, Boyle kick
W: Wilkerson 38 pass, kick no good
S: Aponte 7 run, kick no good
W: Wilkerson to Striviron 5 pass, 2 point good (not sure who ran it)
S: Licostie to C. Williams 25 pass, 2 point no good
-Words by Chris R. Vaccaro