Anacreon scores 3 TDs in loss for Sachem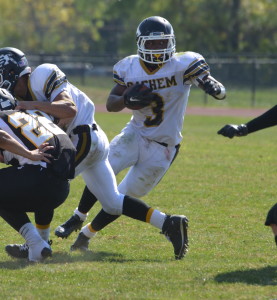 Steve Anacreon scored three touchdowns in the loss. / Credit Chris R. Vaccaro
Sachem North running back Steve Anacreon scored all three touchdowns for the Flaming Arrows in a 29-22 loss at Northport on Saturday.
Anacreon had 27 carries for 139 yards and the three scores.
There were noticeable strides of improvement for Sachem compared to its Week 1 loss against Longwood.
The Flaming Arrows held a 15-14 lead at halftime and blocked a Northport field goal as time expired before the half.
James Avanzato missed converting a fake punt by one yard on 4th-and-15 in the fourth quarter and later missed converting a 4th-and-10 play by coming up with a 9-yard reception on Sachem's final offensive series of the game.
This marks the first time since 2005 that Sachem North has opened a season 0-2.
Sachem will host William Floyd (1-1) on Saturday night at 6 p.m.
-Words by Chris R. Vaccaro