Petillo retires from Sachem after 37 years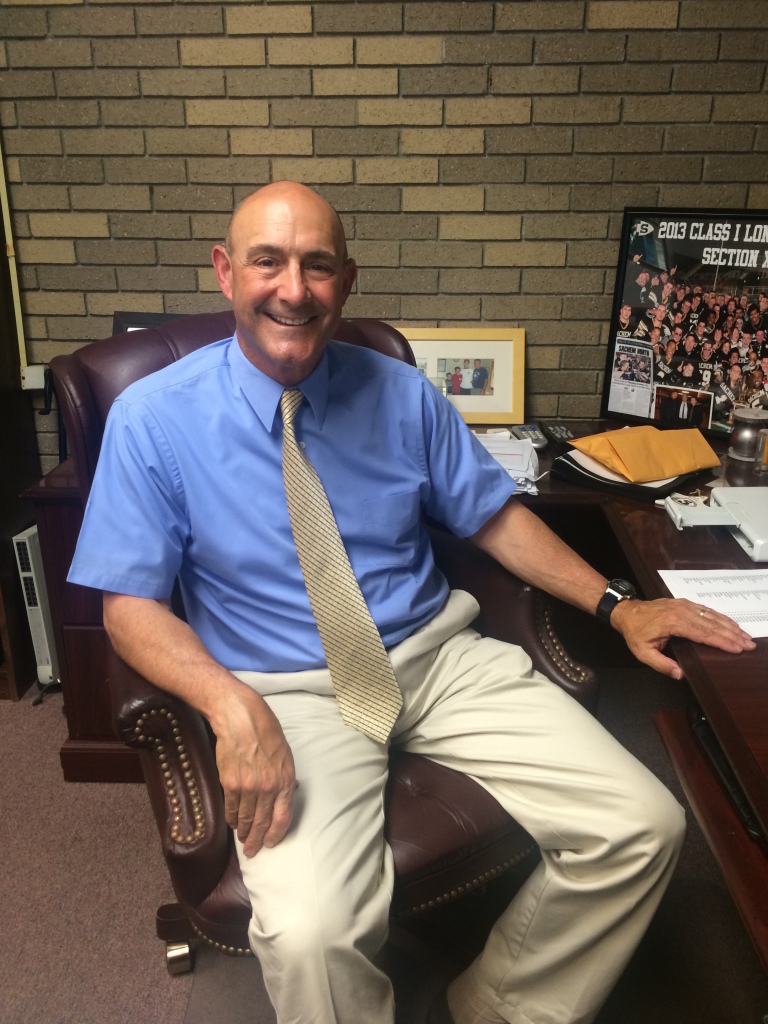 Tony Petillo is retiring from Sachem after 37 years of teaching and coaching.
Tony Petillo is synonymous with Sachem. The alum, who graduated in 1974, has been teaching and coaching in the school district since 1978. Everyone has a Tony Petillo story.
He spent 21 years at Sagamore and another 15 at Sachem North teaching social studies, and has coached football and lacrosse every year.
Petillo, who graduated from Hofstra after playing football and lacrosse at the Long Island university, had a number of tremendous influences at Sachem who he modeled his career after. His father-in-law is the legendary Sachem soccer coach and teacher Don Woolley, his JV football coach and history teacher was the legendary Bill Batewell, and his football coach and main mentor was the legendary Fred Fusaro. Yes, legendary is necessary three times in that sentence because these men are pillars.
Petillo estimates that he has interacted with, coached, taught, or worked with more than 8,000 people since 1978. He's had a major influence on many people's lives and he recently sat down with Sachem Report to talk about his career:
The Sachem Report: Who are the people who inspired you to be an educator?
Tony Petillo: "The guys who inspired me are Don Woolley, my 10th grade phys-ed teacher, Bill Batewell, a history teacher who just loved history, and, of course, Fred Fusaro. My contact with those three men made the job look like something I wanted to do."
SR: Talk about the evolution of your career in the classroom.
TP: "For many years I was doing seventh grade modified, where you got to teach five subjects. We were always in meetings, sharing all lessons. There were all kinds of things that happened in the classroom. All kinds of great lessons as part of the power of being in trenches and working with teachers. It's the comradery and all of us willing to work together and share."
"Then came the smart board, which has changed the game for me. Before that I used ring binders for all my notes. I used to use those plastic sheets. With the use of smart board technology and the smart notebook, I plug in current events, go to YouTube, add a clip and it's just that much easier."
SR: You coached football and lacrosse at the varsity level during one of the most successful eras in Sachem athletics history. What was that like?
TP: "I've always coached. I've never not coached. Football every season. Lacrosse every season. The highlights for me date back to my first year on varsity with Jumbo [Elliott], who was a senior at that point. When he was a sophomore he played for me. Junior year I worked him out in the weight room because I was in charge of training and weights. His senior year I was his line coach. That was the '83 class. We also had guys like Larry Iacono, who went to Penn State and Michael Farley, who went off to play at Cornell. In 1986 we won the Rutger's Trophy and I've coached guys who won the Hansen Award like Wojo [Mark Wojciehowski], guys who won the Zellner like Farley and [Peter] Maiello, a bunch of All-Long Island guys. We were very successful in football."
"I go out of that season and rolled right into varsity lacrosse for 19 years. I had a handle on coaching 14 All-Americans, 13 division championships, two Long Island and Suffolk County championships and one state championship."
SR: Did you think you'd have such a longer and successful career like this?
TP: "I thought I would be a teacher since seventh grade. I enjoyed social studies. I liked going to school. I knew it would be for me. When I got to Hofstra I started taking education classes my sophomore year. I had all my ducks lined up and ready to go. Fred was able to direct me here and I had a nice position. I saw myself in a job like this."
SR: How do you want to be remembered?
TP: "I want to be remembered as a guy who was passion about his job, and who cared about kids."
–As told to Chris R. Vaccaro